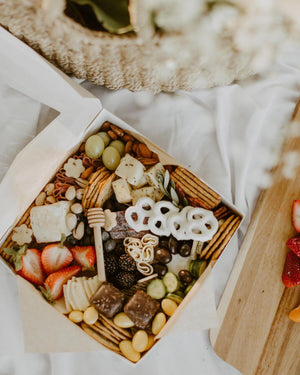 Artisan charcuterie and gourmet grazing boards that are curated with a variety of cheese, charcuterie meats, fruits, nuts and yummy nibbles. Every box is seasonal, sourced regularly so they are subject to availability and substitutions. All boards come with wooden knives, a honey dipper, and everything you may need to be ready to enjoy!
madison.aged.cured@gmail.com
Extra Notes
- Currently Only delivering to Saint George, Utah and surrounding Southern Utah areas.
- Please submit your order request at least 48 hours in advance. Holidays and weekends fill up fast!
- Messages and emails are returned Monday through Friday 9 am-5 pm.
Blog
---
The cutest fluffy puff pastry pumpkin you ever did see. Stuffed with the most delicious Brie, pesto, pumpkin and served with a fig or raspberry jam... you got a show...
I cant even handle how absolutely delicious and easy this was! My homemade crostinis are always the first things to be eaten at any event or family gathering and are...
Catering & Classes
Our favorite thing in the world is to come build a beautiful custom board on site.
Email me and we will create the perfect board for your party / event!
madison.aged.cured@gmail.com